SAN FRANCISCO SEX CRIME LAWYER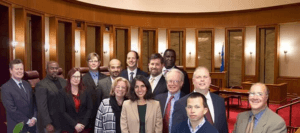 Sex crime cases are life-altering and even devastating. Whether the crime is a misdemeanor or a felony, sex crimes have harsh penalties that can severely affect your future.
If someone accuses you of a sex crime in the Bay Area, you should seek legal advice from sex crime lawyers in San Francisco as soon as possible. The Summit Defense team is full of highly experienced criminal defense attorneys available to speak with you now with a free consultation.
WHEN DO SEX CRIMES HAPPEN?
Sex crimes happen when an individual uses threats, intimidation, or physical force to obtain sexual gratification or arousal. Sex crimes such as Sexual Battery, Child Molestation, Prostitution, and many more are illegal with California state laws.
It is considered a sex crime when violence occurs during the sexual act or a lack of consent from one party to the sexual act. It also includes someone engaging in sex with individuals legally incapable of giving consent, such as children.
TYPES OF SEX CRIME ACCUSATIONS WE DEFEND
Being accused of misdemeanors or felony sex offenses can have a harsh impact on your reputation. It can even hinder you from finding a job to hire you and a landlord to accept you.
Our law firm completely understands this situation. We are committed to finding a defense attorney to help you with your criminal case.
Before a trial, once they inform you that there is an ongoing investigation for you regarding sex crimes, do not hesitate to call us for a free consultation. Here are the common types of sex crimes that we defend:
Lewd Conduct
Lewd conduct involves touching one's intimate body parts, a child's private body parts, or someone else's in a public place for sexual gratification or arousal. The law charges all instances of lewd conduct with misdemeanors. They are all punishable with a fine and up to a year in jail.
Child Molestation
Child molestation is a horrible act and will always be a criminal offense in California. Two specific laws punish child molesters: (1) continuous sexual abuse and (2) molesting a child.
Child Pornography
This offense includes the production, distribution, and possession of child pornography. Federal and state laws prohibit these acts. These laws will charge you with a felony or misdemeanor, depending on the facts of your case.
Indecent Exposure
Indecent exposure includes exposing one's intimate body parts in public for sexual gratification, masturbation, and sexual intercourse in public.
All instances of indecent exposure are charged with misdemeanors. These are punishable with a fine and up to a year in jail.
Rape
According to Penal Code 261 PC, sexual intercourse with an unwilling participant through the use of force, threats of violence or retaliation, or lack of legal consent is a criminal offense.
Statutory Rape
It is defined in Penal Code 261.5(a) as illegal sexual intercourse with an individual under 18. You will be charged with a misdemeanor if the minor is no more than three years younger than you.
Moreover, you can be charged with a felony or misdemeanor if the minor is more than three years younger than you.
Sex Offender Registration
Registration involves putting a convicted sex offender into the California Sex Offender Registry. The Megan's Law website has frequent updates regarding the convict's personal information.
Sexual Battery
Sexual battery includes touching the intimate body parts of another person without consent for arousal, abuse, or gratification. This offense also includes handling a person over clothing and can be charged with a felony or misdemeanor.
Forcible Sexual Penetration
Forcible sexual penetration includes forcibly placing an object into the vagina or rectum of another person against their will. It is considered a felony and is punishable by 3, 6, or 8 years in state prison and a fine of $10,000.
CALIFORNIA'S STATUTE OF LIMITATIONS FOR RAPE CHARGES
There are two limitations for rape in California: the criminal statute of limitations and the civil statute of limitations. Currently, there are no statutes in place for criminal charges for rape. That means you can face rape charges no matter how long time passed from when the alleged incident occurred.
Moreover, victims of rape can file a civil lawsuit to get compensation for pain and suffering, medical bills, and more. The alleged victim of rape has two years from the date of the alleged incident to file a lawsuit. In contrast, if the victim were a minor at the time, they would have eight years from the day they reach the age of 18 to file a lawsuit.